Support the Covington Catholic High School Students
FOR IMMEDIATE RELEASE June 17, 2016 Christian Alliance of Ameri
FOR IMMEDIATE RELEASE June 17, 2016
Christian Alliance of America is proud to join pro-life groups in calling for the Republican Party to defund Planned Parenthood in the 2016 Republican Party Platform

Christian Alliance of America is proud to join pro-life groups in calling for the Republican Party to defund Planned Parenthood in the 2016 Republican Party Platform
Cleveland, Ohio – As the Republican National Committee will convene here in just a few short weeks to conduct their National Convention, we are assembled here today to urge the RNC Platform Committee to adopt language into the Republican Party National Platform that will defund Planned Parenthood. The undercover videos produced by the Center for Medical Progress last year that exposed Planned Parenthood's operations of selling fetal body parts shocked the nation. The time has come to strip Planned Parenthood of the over half a billion dollars in federal funds it receives, and to rededicate that money to the over 13,000 federally licensed women's health clinics that truly provide comprehensive women's health care.
The Ohio Christian Alliance surveys candidates on the state and federal levels and then produces an educational voter guide based upon the candidates' responses. OCA has been surveying on the question of defunding Planned Parenthood for over a decade. This year, the responses of candidates running for Ohio House, Ohio Senate, and U.S. Congress have indicated now more than at any other time their willingness to defund Planned Parenthood.
In the numerous Presidential candidate debates, the question of defunding Planned Parenthood was addressed multiple times with many, if not all, of the candidates on the Republican side determined to severely limit or eliminate all public funds to Planned Parenthood. That is why we here today urge the Republican National Committee Party Platform to adopt language to defund Planned Parenthood. The current Republican Party Platform is a strong pro-life, pro-family document. We want to see it continue and to be strengthened in its language to protect unborn human life.

###
Christian Alliance of America - Home
Details

Published on Saturday, 22 April 2017 15:28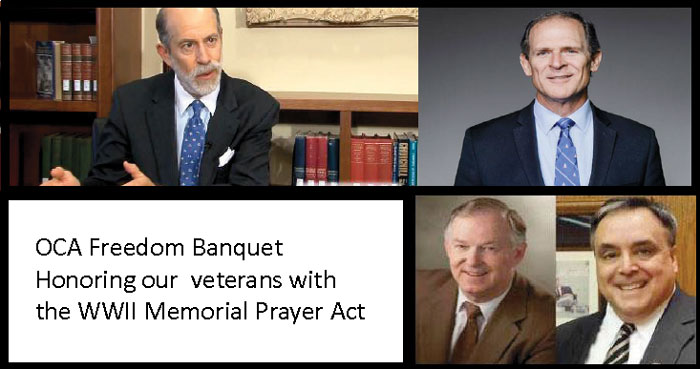 Spring Freedom Banquet
Thursday, May 25th at 7 p.m.
Akron-Fairlawn, Ohio. For details phone 330-887-1922.
Speakers Frank Gaffney and Bill Federer
Bill will speak on Prayers and Presidents, and Frank will give us a national security policy briefing.
The event will honor the WWII Memorial Prayer Act (a project of the Ohio Christian Alliance). Funds will be raised for this project to honor our veterans by placing FDR's D-Day Prayer at the WWII Memorial in Washington, D.C.
For informational flyer click here